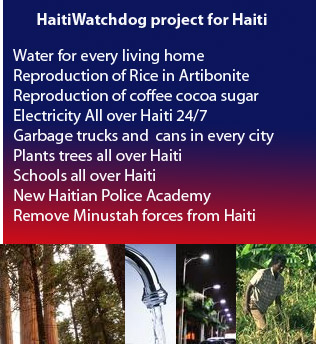 We all talk about Haiti. We all want Haiti to do better. We all wish Haiti can provide for its citizens. We all hope Haiti have a better future. The time is now! HaitiWatchdog is making a plea to demand the Haitian Government to use the funds collected for Haiti earthquake to go to these projects.
Water for every living home
Reproduction of Haitian Rice in Artibonite
Electricity All over Haiti 24/7
Garbage cans and Garbage trucks in every city
Homes for the Tent population
Plants trees all over Haiti
Schools all over Haiti
A new Haitian Police Academy That respect human rights
Remove Minustah forces from Haiti
As you can see we don't ask for too much just the basic right of every human being to live. We asking ourselves why these task are so hard to accomplish? Why would a government elected by the people can't provide the basic needs to its citizens?
Join us!