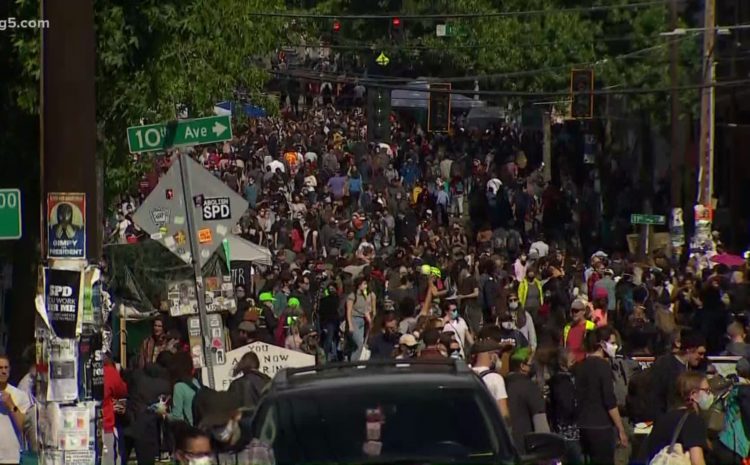 ---
Transcript
This is a rush transcript. Copy may not be in its final form.
AMY GOODMAN: This is_Democracy Now!_, democracynow.org, The Quarantine Report. I'm Amy Goodman, with Nermeen Shaikh. Protesters in Seattle, Washington, have taken over several city blocks after a protracted standoff with the police force there, shutting down a police precinct, declaring part of the city's Capitol Hill neighborhood as an autonomous zone, Capitol Hill Autonomous Zone, or CHAZ. A banner on the perimeter of the area reads, "This space is now property of the Seattle people." Activists took the area after a week of rising tension over the police killing of George Floyd, as police responded with tear gas and force, prompting calls for the resignation of Seattle Mayor Jenny Durkan.
Citizen journalist Omari Salisbury live-streamed Seattle police using pepper spray, tear gas and flashbang grenades on demonstrators and reporters, like himself.
OMARI SALISBURY: There's the spray. There's the spray. There's the spray. Now you saw them now. It's on. East Precinct, they're losing control. State police are trying to open the barricade. They're putting the pepper spray in the air. Share the street! Share the street! Share the street! Share the street! This [bleep]! God [bleep], they got me! You [bleep]!
AMY GOODMAN: Facing mounting criticism for its militarized response, the Seattle Police Department abandoned its Capitol Hill precinct this week.
Last night, President Trump tweeted, quote, "Radical Left Governor @JayInslee and the Mayor of Seattle are being taunted and played at a level that our great Country has never seen before. Take back your city NOW. If you don't do it, I will. This is not a game. These ugly Anarchists must be stooped IMMEDIATELY. MOVE FAST!" President Trump tweeted, then said, "Domestic Terrorists have taken over Seattle, run by Radical Left Democrats, of course. LAW & ORDER!" Trump tweeted.
The Seattle mayor, Jenny Durkan, responded by tweeting, quote, "Make us all safe. Go back to your bunker. #BlackLivesMatter." Congressmember Pramila Jayapal tweeted, "Don't you have a bunker to be in?" She was referencing Trump's visit to the White House underground bunker when mass protests first broke out in late May. Trump has insisted he went to the bunker for an inspection, a claim his own attorney general contradicts. William Barr has said the move was to protect Trump from the protesters.